What is Kids On Course?
Kids On Course is a non-profit organization devoted to helping kids develop strong skills and excellent character through the game of golf. We run educational programs, host tournaments, teach private lessons, and operate a pro shop exclusively for Jr. golfers from our home at 11930 Starcrest, 78247. We welcome all kids ages 2-18 who strive to grow up to be professionals in life.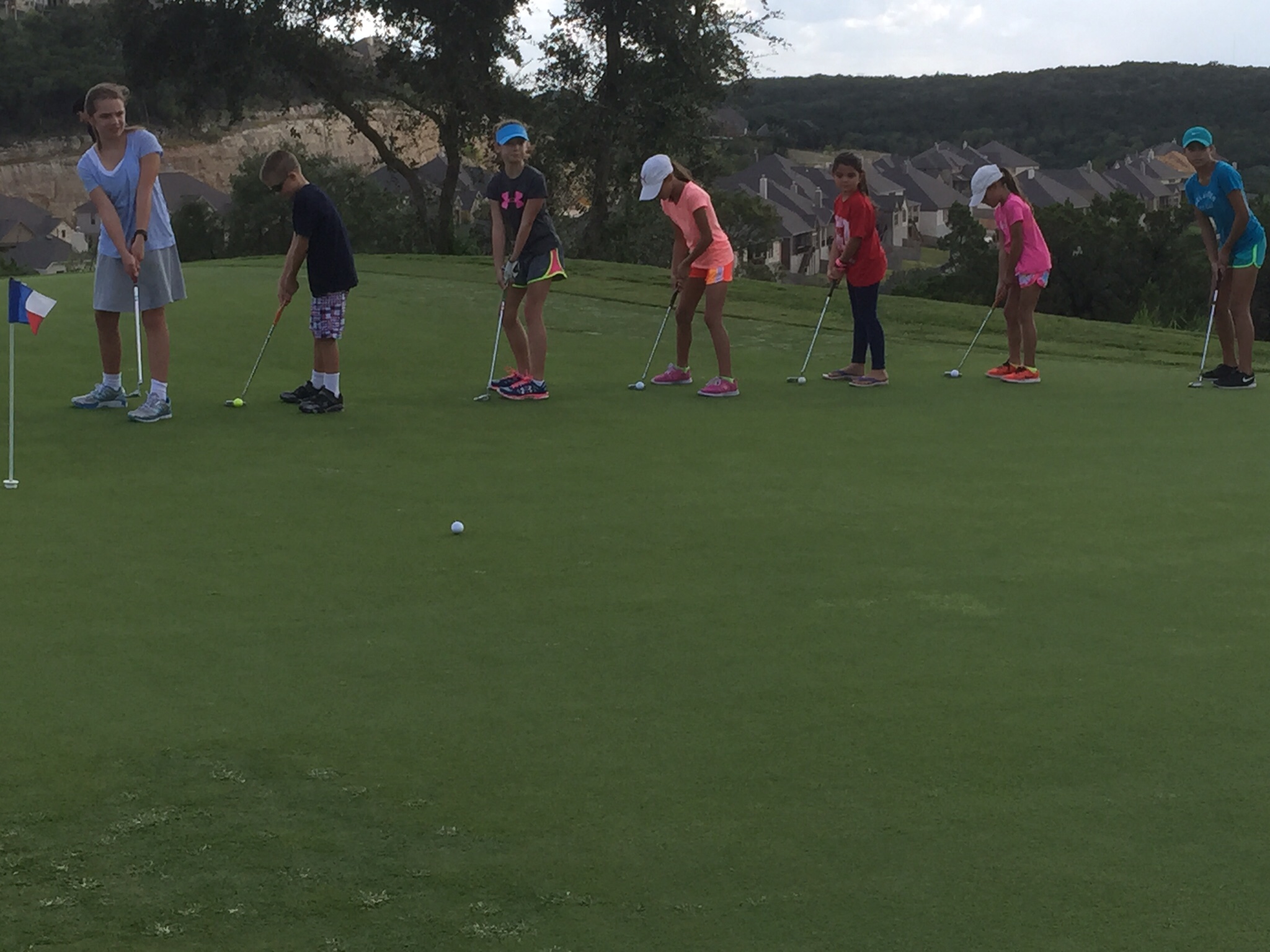 Tees Fore Tots Program
As the only program in South Texas with programs geared towards children as young as 2 years old, we have unmatched knowledge and expertise. Whether you hope to develop the skill and discipline necessary for competitive golf, or are just interested in your child learning a sport while having fun and staying active, this is the ideal place to start! Our goal is to introduce every child to this lifelong sport and to our innovative program which will establish the foundation for achievement.
Tees Fore Tots - $100 (4-30 min. lessons)
US Kids Golf is the recognized leader in tournament golf for youth ages 5-14 and Kids On Course is proud to be their partner representing the San Antonio area. Our tournament format is based on etiquette and sportsmanship, yet introduces participants (and parents) to the rigors of competition. In some cases, these events serve as the launching pad to golf in high school, college, and beyond. In all cases, participants benefit from learning how to set goals, how to compete, and gaining the self-confidence necessary to succeed in life.
The multi-level junior program 'Golf Fore Kids' helps foster students' belief in themselves, in golf and life, while rewarding them for their achievements through a fun and memorable golf experience.
Monday thru Saturday, Kids on Course will hold 'Golf Fore Kids' clinics for students ages 7-14,'Tees Fore Tots' clinics for students ages 3-6, and On Course Classes for students ages 7-14. These clinics will prepare the golfers to participate in US Kids tournaments and Drive, Chip & Putt competitions that are held throughout the year.
Golf Fore Kids - $125 (4 - one hour lessons), Ages 7-14
ON COURSE PROGRAM
Does your child benefit more from one-on-one instructional time? Do they ever get shy, or not perform their best in front of others? No problem! At Kids on Course Golf Academy, we understand the importance of spending time with each of our students. Each one of our kid's swings are different and the level of instruction they need can vary.
Designed for golfers to experience actual on course playing conditions. To include: (but not limited to) rules & etiquette, course management, club selection & shot selection. Perfect for beginner to advanced golfers looking to sharpen their on course skills!
On Course Program - $180 (4 90 min. lessons)
The Preschool program is an at school golf enrichment program designed for preschool students from ages 3-6 years old. We have a 5 to 1 student/teacher ratio and our head coaches are US Kids Golf Certified Instructors. Kids on Course provides all equipment, including new types of technology that ensures a safe and fun atmosphere.
Preschool Program - $100 (4 30 min. Lessons)
The KOC at school, after school junior golf program is the perfect way to introduce your little one(s) to the game of golf. In addition to our regularly scheduled clinics and camps, we will teach your child at their school in a safe, fun and familiar environment. We provide all equipment including clubs specifically designed to fit your child.
The after school classes start within 10-15 minutes of school letting out. The teachers and school administrators are notified and students are instructed to gather in a central location, usually the gymnasium. From there, our instructors will take them out to where the golf practice and playing area is setup. Classes run for an hour and the parents pick up the children afterwards through our sign out process. Any students enrolled in additional after school care programs on campus, will be escorted to those areas by a coach.
In the event of inclement weather, we have arranged with each school, an alternate indoor or sheltered area to conduct the
Camps
Are you looking into programs to keep the kids active this winter break? Kids on Course Golf Academy has camps for all age groups! Whether you have a toddler who is looking to improve their motor skills, or, you have a teenager who is looking to get involved, we have a program that fits! Our dedicated team of instructors are committed to the children and providing an experience that will instill a love of the game.
What better way to spend time this winter break than relaxing and improving your skills on the golf course? We have hundreds of happy kids who all show improvement by the end of the summer. Whether your child has never picked up a club, or, they need help improving they're swing, we have the patient, experienced approach you need.
Recommended for children ages 5-12 (some exceptions will apply with prior approval)